Web Site Updated 12/02/16
G. Pat Macha
Speaker Engagement list
Author "Aircraft Wrecks..." Book
Host "Wreck Finding" DVD
Host "History Channel's "Broken Wings"
Missing Aircraft in California
"The Wreck Finder Aircraft Archaeologist" KCET SoCal Connected Video
"An Aircraft Historian's Logbook"
Courtesy of KCET SoCal Connected

Project Remembrance = PR


---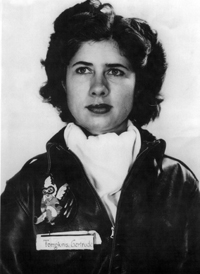 Gertrude "Tommy" Tompkins in her leather flight jacket with Fifinella emblazoned on it.
(Courtesy Whittall-Scherefee Family)

Ongoing Search for
Gertrude Tompkins Silver
Silver update August 26, 2010
Congressional Gold Medal
---
In mid-May 2015 a Marina Del Rey Sportfishing boat captained by John Petrov raised his anchor with an 18' to 20' piece of aircraft wreckage attached. Note the cast metal structure with aluminum skin attached. Captain Petrov did not attempt to bring the wreckage on board, but he did GPS his position.
What had they found? Rick Oefinger of Marina Del Rey Sportfishing contacted www.aircraftwrecks.com wanting to know if we had any data regarding their most interesting find. Gary Fabian found the answer in his UB88.ORG data base. The wreck was most likely from the Douglas DC-8 LN-MOO flown by SAS that crashed into Santa Monica Bay at 7:22 P.M. on January 13, 1969 with forty-five passengers and crew on board. Fifteen lives were lost, but twenty-nine survived, seventeen of these with injuries. The empennage and tail section broke off and sank on impact, but the rest of the DC-8 floated and was salvaged. The cause of the accident was assigned by the NTSB to pilot error. (Photo courtesy Rick Oefinger)
---
Aircraft Crash Site Pages

Stories with Returned Artifacts
B-24D 4/9/44
B-24L 1/30/45
B-25D 10/2/44 PR
P-59A 3/1/45
T-37B 11/8/82
TP-39N 9/6/44
Story Archive
UH-1 Huey 8/6/62
AA-58 1/3/82
A-17
A-4C 3/6/68
B-12A 5/28/35
B-17F 5/30/43
B-24E 12/5/43
B-24E 6/21/43 PR
B-24J 5/16/44
B-24J 5/5/44
B-36D 8/5/52 PR
B-47B 10/13/55 PR
BT-13A 1/8/43
BT-13B 10/2/44
BT-2B 2/8/31
C119C 1980
C182C 11/10/69
C-46A 10/5/45
C-47D 12/4/51
C170A 3/2/57
Champion Citabria 7/4/67
Curtiss AT-9A 12/30/42
DC-2 3/1/38
DC-3 10/23/42
DC-3 11/21/50
DC-3 GS 2/18/69 PR
F-102A 11/10/82
F-105D 12/7/67
F3D-2 3/9/53
F3H-2N 10/3/56 PR
F-4D 4/20/67
(3) F4F-4 2/13/42
F4U-4 4/23/46 PR
F6F-5N 3/6/49
F7F-3P 1/28/47
F9F-5 2/2/57
FM-1/FM-2 Unknown
JF-104A 5/1/57
JF-104A 11/22/66
Dakota MK IV 3/13/45 PR
L-5 7/20/45
Lear Jet 24B 1/6/77
Mooney M20 12/31/76
P-38 5/4/44
P-38/EA-3B 6/18/44 & 9/10/62
PA-18 5/22/78
PA-22 10/28/56
PA-28 6/3/01
PBJ-1D 4/26/44
PT-17 7/15/45
SA-16A 1/24/52
SBW-4E 6/19/45
SNB-4 1/9/55 PR
T-33A 2/10/59
T-33A 5/15/55 PR
TB-25N 1/26/56
TBD-1 1/14/40
TBM-3 10/1/52
TBM-3E 6/16/61
TS-2A 10/5/98
TWA Martin 404 2/19/55
YF-89D 10/20/53
XRK-1 3/28/38
Steve Fossett

P-38G 6/27/43 PR New Story
P-40's 10/24/41 Breaking News
P2V5/C118A 2/1/58
PV-1 2/24/44
SNB-5 11/18/50 PR
TB-26C 4/11/56
X-2 9/27/56
X-15 11/15/67
YB-49 6/5/48
BLM Aircraft Historical Sites

David Trojan's Project Remembrance Stories
New Section w/ Stories
Project page links to 8 .PDF stories
2 more stories added New
1 more story added New

Idaho & Nevada Crash Sites
by Marc McDonald
B-17F 12/2/1942
B-17F 3/30/43
New Story

B-17F 5/5/43
B-24E 12/19/43
Video for the B-24E
B-24D 5/29/43
B-24D 6/11/43 PR
B-24J 1/8/44 PR
Video for the B-24J Idaho New Video
B-24J 2/9/45
B-24J 8/19/44 PR
B-23

1/9/43


BT-13A 4/29/47
B-47E 8/22/62
New Story

C-46F 1/6/53
C-130E 5/13/95
Electra 10A 12/18/36
FJ-3 5/5/56
P-39 2/6/43 PR
P-47D 6/22/44
P-47D 8/1/44
P-47D 8/28/44
P-47G 9/28/44
PA-22-135 7/2/15
PA-23-250 3/23/63
PA-23 3/12/71
RF-4C 11/12/70
Nebraska Wreck Finding
& Memorials
Thanks to Jerry Penry
These Links Take You To The Penry Sites
New Section
www.NebraskaAircrash.com
/memorialsigns.html
www.nebraskaAirCrash.com
/bombingrange/badlands.html

Recent find in Oregon
Loggers find WWII-era wreckage
62 year old crash
Picture Archive
Latest picture posted

Veterans pictures
How to ID a micro-site
ID a micro-site
Info added 5/15/07
Related Story
World War II Airman Found
Frozen in Glacier
Continuing story 9/28/07
Articles
For a complete list of articles featuring
G. Pat Macha
Related Links, Organizations
& Associations
Links European links
Recommended Readings
Latest posting May 4, 2016
Obituaries
Thomas F. Gossett
E. "Butch" Gates

---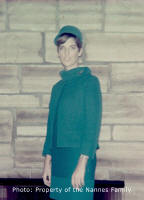 Patricia "Patty" Nannes was only twenty-one years old at the time of the crash.


Honoring our Veterans of the skies who made the ultimate sacrifice!
"A Veteran is a person who wrote a blank check made payable to the United States of America, for an amount of up to, and including his or her life".
Anonymous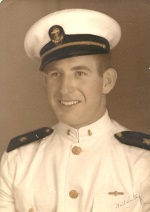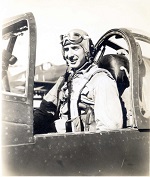 Naval Aviation Cadet Donald F. Bolinski, shown in this 1944 photo, went on to proudly serve his country as a USMC combat fighter pilot in the Pacific Theatre of Operations, flying the Vought F4U Corsair. Following WWII he transitioned to rotary wing aircraft, serving with HMR-163, and flying the Sikorsky HRS-1 in combat during the Korean War. On June 3, 1953 Captain Bolinski was tragically killed returning from a search and rescue mission off the coast of Orange County, California. Captain Bolinski was 35 years of age at the time of his death. He was survived by his wife and four children. (Photo courtesy Karen Lusk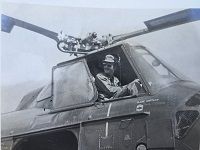 USMC 1st Lt. Wayne Morse was 30 years old at the time of his death on June 3, 1953. He was the copilot of Sikorsky HRS-1 Bu No 127788 assigned to HMR-163 that crashed in El Morro Canyon while returning from a search mission off the coast of Orange County, California. 1st Lt. Morse was survived by his wife and two children. Also killed in this accident was the HRS-1 crew chief Corporal Angel Sanchez, age 21.The crew of the HRS-1 had been responding to a report of an aircraft having crashed into the Pacific Ocean, but this story proved to be unfounded. (Photo Courtesy Deborah Staffen)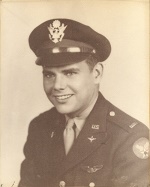 2nd Lt. Samuel P. Hall was twenty-one years old when he volunteered to be a fighter pilot instructor. He was assigned to the 3035th Pursuit Training Squadron Victorville Army Air Base flying the Bell P-39 Airacobra. On July 29, 1944 2nd Lt. Hall took off from VAAB at 8:31 a.m. in P-39N 42-18540 to practice air combat tactics. At 9:20 a.m. his aircraft was seen to pull up in a steep turn, stall, and enter a spin from which 2nd Lt. Hall did not recover. His aircraft struck the ground and burned about six miles southwest of the airbase. The army air force accident report cited a possible pilot blackout, possibly induced by pilot fatigue. 2nd Lt. Hall did not have dinner the night before the flight, and no breakfast on the morning of the flight as he had suffered from heat fatigue while playing tennis the day before the flight.
In late September 2016, Doug Humes contacted the

Project Remembrance

Team to see if it might be possible to locate the final resting place of P-39N 42-18540. Mr. Hume hopes to honor the service, and sacrifice of his uncle, 2nd Lt. Samuel P. Hall by visiting the crash site. The first of two planned missions are scheduled for late fall 2016, and winter 2017.

(Photo courtesy Douglas P. Humes, Esq.)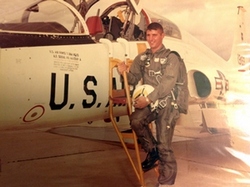 United States Air Force Captain James B. Fowler was twenty-seven years old when he was tragically killed in the crash of McDonnell Douglas F-4E 68-0356 on February 9, 1970. Photo courtesy of his sister, Mrs. Linda (Fowler) Williams.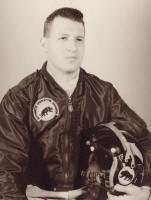 On the evening of March 16, 1957 Lockheed F-94C 50-1059 assigned to the 46th Fighter Interceptor Squadron disappeared without a trace. The F-94C Starfire was piloted by twenty-seven year old 1st. Lt. Henry Charles Nicolay, and radar intercept officer 1st Lt. Harold A. Lewis. The crew of the Starfire was part of a four ship flight en route from Bunker Hill A.F.B., Indiana to Wurtsmith A.F.B. located in Losco County, Michigan. As the flight approached their destination 1st. Lt. Nicolay's F-94C dropped out formation, and failed to respond to radio messages from the flight leader. Clouds and darkness are thought to be factors in the loss of the F-94C and its crew, who are presumed to have crashed into Lake Huron. 1st Lt. Nicolay was married, with two young sons aged one and half and six months respectively.
Recently, Steven R. Nicolay the youngest son of Lieutenant Henry C. Nicolay, has made an appeal calling for a renewed search effort in the waters northeast of Oscoda-Wurtsmith Airport. Advances in side scan technologies, and recent updates to USGS data may help in locating the final resting place of Lockheed F-94C 50-1059 and her crew. Volunteers interested in pursuing this important search mission, honoring the service and sacrifice of two air force officers during the Cold War era, should contact Steven Nicolay via pat@aircraftwrecks.com.
Video of the Loma Ridge Site Visitation and Memorial Dedication 6/25/15 & 6/27/15



Next of kin gather at Loma Ridge on June 25, 2015, the 50th anniversary of the C-135A crash that claimed seventy-two Marines, and twelve Air Force servicemen.
(Photo Courtesy Fred Fourcher)

Project Remembrance This the largest Project Remembrance mission yet, thanks to Eagle Scout candidate Jordan Fourcher. Families traveled from all over the U.S. to be here today.

Orange County Register article and pictures, June 25th, 2015


Memorial Dedication June 27, 2015
at Great Park Irvine, CA 1:00 PM Open To The Public
Some of the Servicemen who gave their Lives in the C-135A Airplane Crash are below

On June 25, 1965 USAF Boeing C-135A 60-373 departed El Toro Marine Air Base at 1:44 AM with eighty-four men on board. At 1:46 AM the C-135A struck cloud enshrouded Loma Ridge to become the worst aviation accident in the history of Orange County, CA.

Click picture for 2 page .PDF info about Memorial Dedication

During a survey on behalf of the Irvine Ranch Conservancy in May-June 2007 I found the dog tags of USMC Lance Corporal Howard Duane Hall, Jr. The tags were held by the IRC until the fall of 2013 when I was contacted by a representative of the Hall Family. The Irvine Ranch Conservancy promptly returned the dog tags to the family in December, 2013. (Photos courtesy Stephen A. Hall)

Boy Scout of America Jordan Fourcher became an Eagle Scout on 10/15/15. Jordan, is congratulated by members of the Court of Honor for his outstanding project to honor the service and sacrifice of eighty-four Marines and Air Force servicemen who lost their lives in Orange County on 6/25/65. Jordan's project was the impetus that brought together surviving next of kin, by honoring and including them in activities that spanned three days, June 25 – 27, 2015. (Photo courtesy the Fourcher Family)


Corporal Theodore E. Stark. (Photo courtesy Elaine Stark) New Photo

Corporal Timothy M. Treweek. (Photo courtesy Natali Matthew Hansen) New Photo

Airman 3rd Class Elwood C. Van Note, Jr.. Photo was taken two days before his death by his sister Rosemary. (Photo courtesy Rosemary Jean Van Note) New Photo

Lance Corporal Robert E. Harvey. (Photo courtesy Alyce Harvey) New Photo

Lance Corporal Douglas D. Everett. (Photo courtesy Nicole & Robin West) New Photo

Lance Corporal Robert E. Harvey. (Photo courtesy Alyce Harvey) New Photo

The grave of Corporal Anthony E. Nelson. (Photo courtesy D. Martin) New Photo

Private First Class Lawrence R. Van Ness, USMC, was a native of Rochester, NY,
and was engaged to be married at the time of his death. (Photo courtesy of his niece, Marilyn Shaw) New Photo

Proud to be a United States Marine, Lance Corporal Alfred Eugene Peterson looks sharp in his uniform. He was married and a father at the time of his tragic death on June 25, 1965. Lance Corporal Peterson was one of seventy-two Marines, and twelve Air Force men who died in the crash of a C-135A Stratolifter on Loma Ridge near El Toro MCAS in Orange County, California.
(Photo courtesy of Lisa Hollingsworth)

Marine Staff Sergeant Jackson M. Sinyard, Jr. was 33 years of age at the time of his death on June 25, 1965. He was married, and had four sons aged three weeks to six and a half years. (Photo Courtesy Bryan Sinyard)

Air Force officer, 1st Lt. Robert H.K. Shannon was twenty-nine,and married with five children at the time of his death on aboard Boeing C-135A 60-373. (Photo courtesy Barb Shannon)

Cpl. James V. Matruski (Photo courtesy Diane Horton)

Twenty-seven year old 1st Lt. John A. Zielke was 1st Pilot aboard the C-135A on 6/25/65. (Photo via Marc McDonald)

Corporal Jimmie E. Brown was twenty-four at the time of his death. His niece described him as a "True hero, with a great love of his Country". (Photo courtesy Nancie Sellars)
Brandon Shippy, Eagle Scout candidate presents his completed project on 12/13/14 in Robinson Ranch, an area within the City of Rancho Santa Margarita in Orange County, CA. Brandon's memorial project honors the memory of four marine airmen lost in two accidents. The first loss occurred on May 5, 1944 killing Captain Calvin K. Vermillion, USMCR. The second loss occurred on February 12, 1987 killing Major William J. Anderson, USMCR, Major Dudley W. Urban, USMCR, and Sergeant Bradley A. Baird, USMCR. Both crash sites are near the memorial marker. (Photo by G. P. Macha)
Page 1 - 2 - 3 - 4 - 5 - 6 - 7 - 8 - 9 - 10